The Mirror News- Potter is in the Maxim cover girl mix
Posted on May 9, 2019 at 3:11 am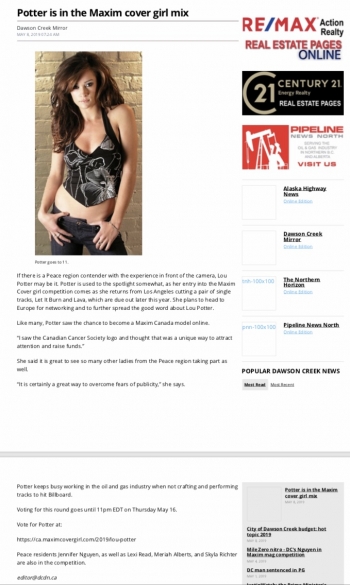 If there is a Peace region contender with the experience in front of the camera, Lou Potter may be it. Potter is used to the spotlight somewhat, as her entry into the Maxim Cover girl competition comes as she returns from Los Angeles cutting a pair of single tracks, Let It Burn and Lava, which are due out later this year. She plans to head to Europe for networking and to further spread the good word about Lou Potter.
Like many, Potter saw the chance to become a Maxim Canada model online.
"I saw the Canadian Cancer Society logo and thought that was a unique way to attract attention and raise funds."
She said it is great to see so many other ladies from the Peace region taking part as well.
"It is certainly a great way to overcome fears of publicity," she says.
Potter keeps busy working in the oil and gas industry when not crafting and performing tracks to hit Billboard.
Voting for this round goes until 11pm EDT on Thursday May 16.
Vote for Potter at:
https://ca.maximcovergirl.com/2019/lou-potter
Peace residents Jennifer Nguyen, as well as Lexi Read, Meriah Alberts, and Skyla Richter are also in the competition.
https://www.dawsoncreekmirror.ca/dawson-creek-news/potter-is-in-the-maxim-cover-girl-mix-1.23815209