Lou Potter on 1001tracklists
Posted on June 24, 2020 at 9:21 am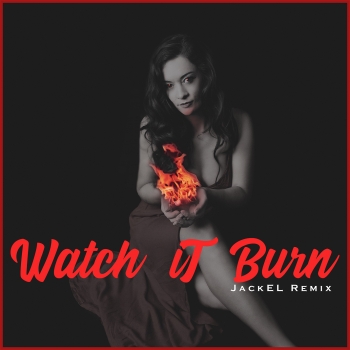 https://www.1001tracklists.com/stories/3xzzhb/get-to-know-lou-potter/index.html
Today we're joined by Canadian DJ and producer Lou Potter, who's recently released her new bass heavy single "Watch It Burn." Her good friend JackEL also provided a remix that turns things up a notch with a dubstep take on the track. Read on to get to know Lou!
Hey Lou, thanks for joining us today! How would you describe your sound and style as a DJ and producer?
I would describe my sound and style of music as a chick vibe, with heavy bass. I always try to incorporate live instruments or live sounds emulating instruments along with electronic sounds in my music. I try to move in the direction of the latest electronic sounds. I collaborate with producers where their vibe is similar.
When did you first get started with producing music and what prompted your interest? When did you decide to pursue music as a career path?
I started with music when I moved to Vancouver B.C., Canada in 2007. I tried all different types of bands and played in many different bars, along with going on tour a couple of times throughout Western Canada. I started to DJ my own shows in 2013, and continue to bounce back and forth with collaborations with other DJs and musicians and with both full band sets and DJ sets.
What prompted my interest in music a long time ago was actually when I was a child and my mother put me in the town choir, and then I had vocal lessons throughout my childhood. I have always had a passion for the arts and entertainment, especially music.
I decided to choose music as a career path when I moved to Vancouver from a small northern town called Dawson Creek, B.C. I pursued it heavily for about five years and gained many experiences and musical opportunities both in L.A. and Vancouver. Music is now more of a passionate side hustle for me, I will never stop making it or being involved in music.
Can you tell us about the inspiration behind your latest single, "Watch It Burn"? How did this track come about?
My latest single "Watch It Burn" is written about the fire that never goes out inside me. I co-wrote it with my good friend and producer DJ Hymn. Society loves to push their idealism on everyone so it is very hard to navigate through life; continuously having people's opinions shoved down your throat. Truly the only thing that really matters is if you stay the main character of your own story and continue to be passionate about this beautiful life we live in, and keep that fire going at all costs. The lyrics are a sassy vibe, with this message portrayed.
The artist who inspired us to write this song was Ariana Grande. She has a goddess vibe which to me is very inspiring and it also prompted us to incorporate the slower BPM with the heavy bass.
"Watch It Burn" also features a brand new remix from JackeEL. Can you tell us about how the two of you first met and how he came to remix this one? What do you like about his take on it?
The remix to this single "Watch It Burn" is by my good friend JackEL. We actually met online, however we have many mutual friends because he is in fact Canadian as well, and currently lives in Las Vegas. I really enjoyed JackEL's vibe and his work mannerisms. We are cohesive and will continue to work together collaboratively. I love what he did with this remix because he shaped it into a high energy dance song for those who prefer that type of music.
Who are some artists that you're currently drawing inspiration from and what is it about them as an artist that makes them special to you?
The DJ duo Krewella have always been a huge inspiration to me for many years; I have gone to their shows long before they became big in the music industry. Their energy, their style, their vibe – I have always gravitated to it. I am also inspired by artists such as Ariana Grande and Alicia Keys because of their soulful style. Alicia Keys is special to me because I have followed her my entire life even since I was a child.
Can you tell us about some of our interests outside of music? We hear that you're an ice hockey player!
I was born and raised in a northern community in British Columbia, and the culture there is a "hockey town" so of course I started playing ice hockey with the boys when I was a child. I did that for about five or six years and then went to women's hockey, I got a hockey scholarship and went to college and then continued to play for the rest of my life. Hockey is another passion for me which I have had since I was very small.
I grew up on a farm so I started hard work when I was a child as well. I then got into construction work and continued to work hard my entire life. From labouring to equipment operating to the management and logistical side of construction. My other hobbies are mountain snowmobiling, travelling the world, ocean diving, and fishing and doing my best to experience life to the fullest. I absolutely love being outside in all elements.
What's one goal that you're aiming to reach in the next couple of years?
One goal I currently have, other than buying a house, is to release my next single "LAVA" this year and then finish writing a new song I have started with my good friend and producer JackEL.
And while times are undoubtedly very tough for anyone in the music industry, what's something that you're looking forward to in the months ahead?
With the uncertain times ahead, I believe that being able to continue to produce and create art is the best thing that we can do to contribute right now. To try to spread happiness and defeat depression.
I would like to thank the front line and essential workers out there doing their very best to help us fight Covid-19. We all appreciate you, and send all the love!