Brand New single Available Now! *Alive* Featured on DMDS
Posted on January 3, 2018 at 1:04 am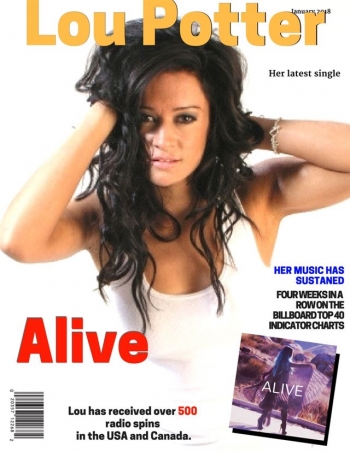 Lou Potter
Alive
100% Cancon

In 2016 Lou Potter played at the Big Bam music festival, DCMF- Dawson Creek Music Festival and featured at A FANFIC ROCK-OPERA FILM OF ABC'S 'ONCE UPON A TIME.' COMIC CON in San Diego. She released two hot new singles "Tragic" and "Sux 2 B U" in 2016 and early 2017. Tragic made #36 four weeks in row on the Billboard Top 40 indicator charts with over 500 radio spins in the USA and Canada.
Lou was the winner of the weekly Superxtar 2016 "One world, one singing contest" sponsored by VRTUO.
She held a remix competition for producers and DJ's worldwide to enter. The best Remix of her hot new single "Sux 2 B U" for a first place win of $500 CAD.
She is booked for the show DJ's&PJ's headlining with Apollo, also headlined the Halfway to Halloween party for Freshly Squeezed Entertainment April 2017.
Here now is Lou's brand new single "Alive".
https://www.loupotter.ca/home
https://www.facebook.com/loupottersounds/
https://twitter.com/loupottermusic
https://www.instagram.com/loupottermusic/\
https://www.youtube.com/user/Cindyloupotter
https://www.reverbnation.com/loupotter
https://soundcloud.com/loupottermusic
https://itunes.apple.com/ca/artist/lou-potter/id858739363
| | |
| --- | --- |
| Label: | Lou P Music |
| Artist: | Lou Potter |
| Date: | 12/30/17 12:36 PM |
| Website: | |
| Contact Name: | |